Other Good Stuff July 2018
FROM THE WEBSITE

ANOTHER WEBSITE FEATURE
VWC WEBSITE – USING COMMENTS VS USING THE MESSAGE CENTER
COMMENTS are open and available to be seen by all members. If you only want one person or a group to see the information, use the MESSAGE CENTER feature or send them an email at their address on the roster. For more information
http://www.valleywomensclublvhdnv.com/Comments-Message-Center.htm

NEW WEBSITE FEATURE:
For most of you, click on the email address at the end of an event to have an email message open already addressed to the hostess. A quick easy way to let her know you are coming - type a note and click SEND from your email program.
sue.vwc@gmail.com

COMMENTS – DID YOU KNOW?
Profile messages (comments) are open and available to be seen by all members. If you only want the one person to see the information, use the Message Center feature or send them an email at their address on the roster.|
Also, you may have already noticed COMMENTS only include plain text so while you might want to add balloons or fancy lettering for a birthday greeting, the comment feature doesn't support it.

WEBSITE UPDATE – NEW TAB
VWC MEMBER INFORMATION
This tab is now at the top of the left-hand panel
It contains:
Membership Handbook
Job Descriptions July 2018
VWC Docs & Forms July 2018 – A new tab
Website Information

CHECK YOUR WEBSITE SETTINGS
Members Profiles -- Information about members
This is where other members get to know who you are. You can add photos: adding the Master Photo and Member Photo allows members to put a name with a face. You can also tell members about you by filling in the boxes.
You can also view Photos of Members.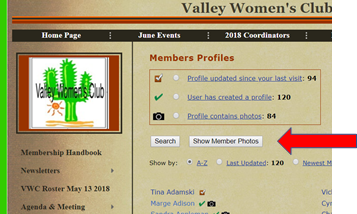 NOTIFY ME .... These are the default settings for being notified.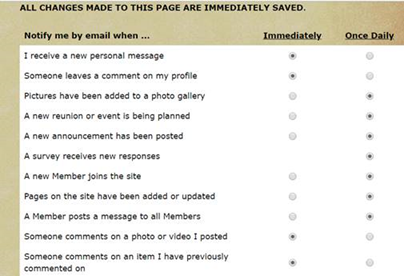 Choose Edit Profile from the left-hand panel. Scroll down and check the settings listed below. By default all items are selected. Several members have accidentally or deliberately unchecked items. Especially if you are not receiving comments from other members you might want to check this.


NEW WEBSITE FEATURE:
For most of you, click on the email address at the end of an event to have an email message open already addressed to the hostess. A quick easy way to let her know you are coming - type a note and click SEND from your email program.
sue.vwc@gmail.com